Topline Systems supply, install, support and maintain telephone systems.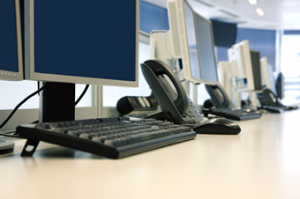 Basic telephone systems for small offices
Advanced systems for larger organisations
Reporting
Computer integration
Solutions for home workers and remote offices
Voicemail systems with optional delivery by email
Call routing and processing
Auto attendant
Time based routing
The performance of modern telephone systems will often be dependent on other IT systems. When considering replacing your telephone system it is important to consider and plan for the relationship between your new telephone system and your other IT systems. Making assumptions that it will work according to the glossy brochure or the assurances of the individual selling you the system could be a costly and disruptive situation to sort out at a later stage.
The specification for any system we propose to a customer will be developed by appropriate technical staff who will first take time to understand the customer's requirements. Our team of technical staff, who have a diverse range of IT skills, can plan, install and configure your telephone system taking your other IT systems and wider connectivity issues into consideration.
We supply conventional on-premises and hosted solutions. We can also extend the capabilities of existing conventional on-premises systems by integrating functionality from our hosted solutions. This combined approach can be helpful where the customer has made a substantial investment in an existing system but later needs to add features that would otherwise necessitate replacing the system.
Our new telephone systems are supplied with service contracts that ensure support is swiftly available.
Contact us to get a quote on support of your current system or to discuss your general requirements
Topline Systems are one of the longest established IT service providers in the area, providing on-site IT support, IT services and telephone systems maintenance to Birmingham, Solihull, West Midlands, Warwickshire, Worcestershire and South Staffordshire.