A network fault can be as obvious as a failed network port. It can also present less obvious symptoms such as an inexplicably slow network, intermittent loss of network connectivity on computer systems and poor voice quality on telephones.
Our technicians are experienced in identifying and resolving faults in wired and wireless networks.
Physical faults such as cable break, damaged sockets, faulty patch cables, fibre damage.
Failure of active network devices, transceivers, network switches, wireless devices.
Adjustment to configuration of network switches, routers and firewalls.
Identify active network devices causing bottlenecks that need to be upgraded or replaced.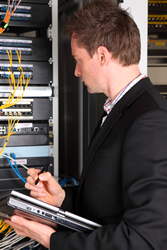 In addition to looking for failures that have occurred in the network system and devices that have reached capacity, we can also consider the overall architecture of the network and the demands being made on it. A network designed many years previously may need to be updated to cope with the demands being made on it today. As an increasing range of devices are made able to use standard IT networks as their communication path of choice, there can be an assumption that there is infinite capacity within the network to accept additional traffic which is not the case.
Active monitoring can be put in place to alert our technicians directly to faults as they occur. This can be especially beneficial to organisations with networks that span multiple sites.
Topline also install and manage network and telecom patch cabinets, switches, firewalls, routers and other active network devices.