Topline provide an efficient and economical solution where you can enjoy the benefits of having access to multiple technicians, providing a wide range of skills, for as little or as much time as the support of your systems requires.
On-site, remote and telephone support
Systems and network maintenance
Rapid response to system failures
Automated monitoring facilities enabling proactive response
Advice & guidance for management
Service agreements with monthly invoicing *
We are one of the longest established IT service providers in the area, providing on-site IT support, IT services and telephone systems maintenance to Birmingham, Solihull, West Midlands, Warwickshire, Worcestershire and South Staffordshire. Many of our services are available nationally.
Our technicians are working at many different sites across a wide range of industries, constantly gaining experience of new issues and technical advances.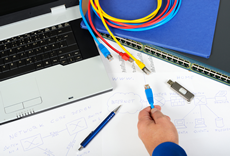 For many small and medium size organisations it is not economically viable or desirable to operate their own 'in house' IT department. For those organisations Topline is their virtual IT department.
We also work with our customers' IT departments to provide specialist skills or support to supplement skills available within that department. Organisations may also use our services to take over operation of basic IT support and maintenance to free up their own IT staff for other tasks.
*  Subject to location, availability, terms and acceptance.